COUPS AND CALYPSOS
Written by M. NourbeSe Philip
Directed by David Oiye
This 1996 play by Marlene Nourbese Philip was produced by Cahoots Theatre Projects at the Factory Studio Cafe from 5 to 21 February 1999.
Errol played Rohan. He was nominated in the Independent Theatre Division for Outstanding Performance by a Male for his performance in Coups and Calypsos at the 1999 Dora Awards.
See the
Reviews
page for additional information.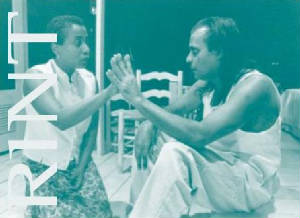 Click for larger size.
From Toronto Culture brochure The Creative City - A Workprint, April 2001. Credited as follows on page 21 of the brouchure:
Alison Sealy-Smith and Errol Sitahal in Coups and
Calypsos, courtesy Cahoots Theatre Projects,
photographer: Greg Tjepkema
Note: the spot color and text on the side are from how the photo is used in the brochure.
Factory Studio Cafe
125 Bathurst St.
Toronto Ontario M5V 2R2
Canada
(416) 504-9971
Tues-Sat 8 pm, mat Sun 2:30 pm. $14-$18, Sun pwyc* (sugg min $7).
* Note: "pwyc" is short for "pay what you can".